Cleveland Public Library (1997)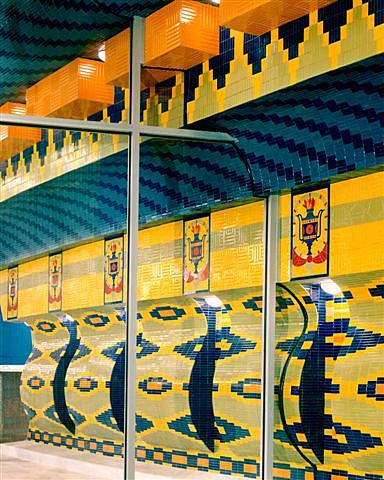 The project involved two abstract ceramic tile "feature walls" located in the lower level and first floor of the new addition to the Cleveland Public Library. These three dimensional walls are both 150' long and 12' high. There is a radius on both the horizontal and vertical planes. All tile is butt-jointed. There is no grout A mixture of pure portland cement and latex was used for the setting bed.
Our scope of work began with providing initial shop drawings for construction of the framework, design confirmation and finish dimensions. Following approval, we proceeded with procurement of the material and constructed actual size templates of the intricate profiles of the walls to begin installation of the dry pack substrate. Installation of the "mud" was very complicated due to:
The numerous contours of vertical inside an outside radius
Boxed projections and returns (for lighting)
The top of the wall extends 4' out from the bottom of the walls (the horizontal radius is increased by 48")
Tthe different thickness of the mosaic and quarry tile.
The above substrate was installed with the requirement of minimizing cut tiles. 99% of the tiles are full size tiles.
The tile installation includes 193,000 pieces of mosaic 1" x 3" in five colors which creates most of the design. The tiles were hand set piece by piece on all inside an outside radius areas due to the low tolerance of adjustment from the butt-joint requirement. For the flat surfaces, the manufacturer provided butt-jointed tile sheets using a unique method of face-mounting the patterns with carpet strips and glue developed specifically for this job. The patterns were fabricated by the manufacturer per our pattern and dimension requirements.
There are also over 2000 pieces of scored 6" x 6" quarry tile (in four colors) and 18 water jet lanterns or shields. Approximately 50% of the quarry tile were water cut pentagons (see photographs) taken from "scored" 6" x 6" quarry tile. The pentagon shape (insert) was cut both parallel and perpendicular with the direction of the "scored" (field piece). All pentagon shapes cut perpendicular to the scores were then exchanged with the parallel cut pieces (and vise versa) to create a checkerboard image when installed.
The "Lanterns" were designed with CAD and water jet cut into approximately 100 pieces of hand set mosaic tile per design. This "Lantern" motif is used continuously in various design mediums throughout the library.
The goal of the project was to provide a unique, contemporary, functional addition to the Cleveland Public Library. Ceramic tile not only contributed to the design goals, but is a main focal point of its success. The result is an abstract design for the public enjoyment using traditional materials and concepts developed from construction of the original Cleveland Public Library during the 1920's. Success has only been achieved through cooperation of the Architect, Designers, Manufacturer, Tile Contractor, Craftsmen, etc.